Description
Our new soft and strong 3″ & 4″ square mesh polyester climbing nets are perfect for small children and widely used in the amusement park industry where small spaces are recommended.  Our quality handcrafted nets are fabricated from your choice of 1/2″, 5/8″ or 3/4" diameter 3-strand twisted premium polyester rope, chosen for its superior UV resistance and stays soft and nets stay flexible.  All small mesh nets are finished with a rope border on all 4 sides and are white in color.
Features:
Premium 3-strand twisted white spun polyester
Superior performance and exceptional service
Superior UV resistance
Soft and flexible nets
Rope border all 4 sides
General Safety & All Disclaimers:
Top of net is weight bearing part of net.
Secure to framework which will exceed any weight placed on net.
Avoid any rubbing of rope on abrasive surfaces which will prematurely damage net.
Contact experienced contractor/installer for installation.
Do not locate over or near dangerous surfaces.
Maintain soft surfaces under nets at all times.
Never jump off net when dismounting.
Angled nets provide safer climbing (keeps net under climbers bodies).
Any climbing equipment that involves height can result in an injury or even death from a fall. Supervision and spot.
Check and maintain equipment – replace when compromised.
Jammar is not responsible for installation, use and maintenance of nets, ropes and all equipment.
Heights over 8 feet require additional safety measures including possible belaying.
About Jammar's Climbing Nets:
Jammar can fabricate a cargo net to fit any structurally safe play structure or specially designed framework. For best results measure inside dimensions of framework width and height and deduct 1 foot from each dimension. This leaves 6" on each side for attachment and to keep net off ground. Sizes are approximate and may stretch when weight is applied. When ordering specify net type, mesh size, rope diameter, border option, and size. Climbing nets are easy to install and are long lasting when attached with smooth, nonabrasive hardware and properly installed and maintained.
All nets comply with National Playground Safety Standards for mesh size and locking mesh junctions. Special consideration must be given to safe heights, safe use and the management of a soft surface under climbing equipment. Do not jump or drop off any net. Safe play area required. Suggested installation and use instructions sent with each order.
Sizes are approximate and custom-made nets are nonreturnable. Wide variety of styles and shapes available.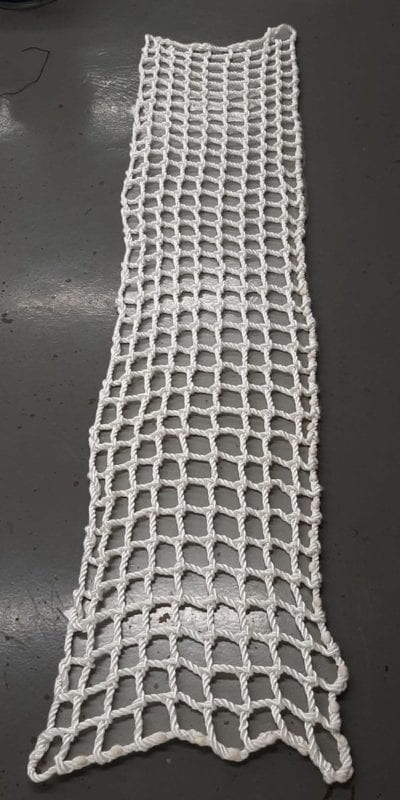 Dealer Applications available