Description
Our Ninja Course Ring Grabs are quality 8″ O.D. black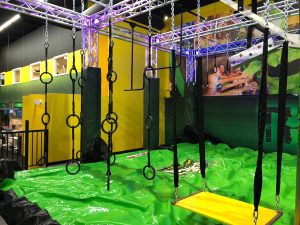 poly rings with spliced on attachment rope provides an additional or complete obstacle for you overhead challenge course. Rope eye on top, metal thimble available upon request.
Great obstacle for your overhead challenge course
Quality black poly rings with spliced on attachment rope
Approximately 12″ of rope assembly with 8″ ring
Single Ring Grab – approx. 24″ overall length
Double Ring Grab – approx. 78″ overall length
Triple Ring Grab – approx. 90″ overall length
Custom sizes available
SOLD PER RING GRAB
Black rope color is shipped unless otherwise specified
Remember to always use appropriate mats or material under and around all climbing equipment. All sporting and physical education activities carry the risk of injury to the participants. Any and all climbing activities require proper mats, spotting and supervision when using. Specific soft landing surfaces and supervision required and possible belaying for climbing heights over 8 feet. Mats are probably the single most important ingredient to any activity using equipmend to prevent serious injuries when accidents may occur. Improperly maintained equipment and inadequately supervised programs are other significant contributing factors. All equipment must be thoroughly inspected and maintained to reduce the risk to the users. Jammar products are supplied with general installation instructions, care and use documentation.
Sizes are for pricing purposes only and all of Jammar products are custom made and non returnable. Custom sizes available. For further information regarding Jammar equipment, products and custom sizing please contact your dealer or call us at 1-860-451-8163.