Description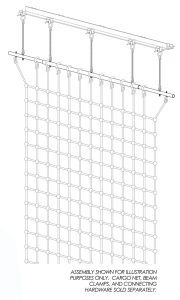 The UHB-1014 Universal Cargo Net Hanging Bar is a universal telescoping support assembly to suspend a 10′, 12′, or 14′ wide indoor cargo net along a continuous beam. The hanging bar is suitable for both CN and HD Series Cargo Nets.
The UHB-1014 comes equipped with two heavy wall 1-1/2" outer steel pipes, one heavy wall 2" inner steel pipe, five 1/2" forged eyebolts, and two tie-off eyebolts. All holes are factory drilled and ready for easy assembly. No drilling or cutting necessary. Pipes are supplied with a durable black finish.
In addition to the UHB-1014, Jammar also offers a kit which includes beam clamps and suspension hardware. Refer to CNHH-1 or contact Jammar for additional information.
Features:
Telescoping feature allows bar to adjust to fit any 10′, 12′, or 14′ wide net
Includes eyebolts
Easy assembly, ready to hang
Include any special requirements
Indoor nets are supplied with general installation instructions, care and use documentation. Any and all climbing activities require proper mats, spotting and supervision when using. Specific soft landing surfaces and supervision required and possible belaying for climbing heights over 8 feet. Mats are probably the single most important ingredient to any activity using equipment to prevent serious injuries when accidents may occur. Having several thick landing mats placed around nets will make instruction much easier and more innovative. These mats are versatile and can be used in many capacities.